Luca Quartuccio
University of Udine, Italy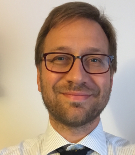 Luca Quartuccio graduated in Medicine in 2003 at the University of Udine, Italy.
In 2007 he completed his fellowship in Rheumatology at the Rheumatology Division of Udine and completed his Ph.D. program in Clinical Sciences and Technologies in 2011.
He worked as assistant professor of Rheumatology from 2010 to 2019, and is now associate professor of Rheumatology at the University of Udine and Vice-chair at the Rheumatology Division of the University Hospital of Udine.
He has published more than 200 papers in the field of rheumatic diseases (source: PubMed), most of them as first, second or last author.
He has focused his investigations on the pathogenesis and treatment of several rheumatic diseases, with particular interest on the role of B cells and treatments targeting B cells in cryoglobulinemic vasculitis, Sjögren's syndrome, ANCA-associated vasculitis and rheumatoid arthritis.
In 2008 he was awarded the Young Researcher Award by the Italian Society of Rheumatology for his contribution in the field of predictive factors of response to rituximab in rheumatoid arthritis, and in 2014 he was awarded the EULAR abstract Award at the Annual European Congress of Rheumatology for his contribution in the field of treatment of cryoglobulinaemic vasculitis with B-cell depletion treatment. He was a co-author of the first open study applying belimumab in Sjögren's syndrome in collaboration with the Rheumatology Department of Bicetre Hospital, Paris-Sud University.
He served as young co-chairman during the 15th International Symposium on Sjögren's Syndrome, held in Rome from 7 to 10 September 2022.