José António P. Da Silva
University Hospital of Coimbra, Portugal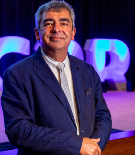 Prof. Pereira da Silva received his MD. from the Faculty of Medicine at the University of Coimbra in 1982 and his Ph.D. in Medicine/Rheumatology from the University of London in 1993. He is currently Full Professor of Medicine and Rheumatology at the University of Coimbra, and Head of the Rheumatology Department at the University Hospital of Coimbra.
He has a longstanding dedication to Medical Education, consolidated in his activities as Chairman of EULAR Standing Committee for Education and Training (from 2001 to 2005) and President of the European Board of Rheumatology from 2006 to 2010.
He has published over 300 papers in National and International peer-reviewed journal (HI 47, ORCID 0000-0002-2782-6780) and currently serves in the Editorial Board of several scientific journals in the area of Rheumatology. His current research interests are especially focused in Rheumatoid arthritis, Osteoporosis, Systemic sclerosis, Fibromyalgia and the psychological domains of rheumatic diseases.
He especially prides himself on being a medical educator and a practicing clinician dedicated to translating research into the best possible practice to the benefit of patients, thus pursuing the moto he adopted for his department: "Promoting happiness through excellence of care".