David Bulmer
University of Cambridge, UK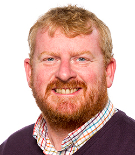 Dr David Bulmer is an Associate Professor in Gastrointestinal Pharmacology within the School of Biological Sciences at the University of Cambridge.
Dr. Bulmer's research is focused on how pain sensing nerves within the gastrointestinal tract (visceral nociceptors) become sensitised in different gastrointestinal diseases such as irritable bowel syndrome (IBS) and inflammatory bowel disease (IBD).
To do this his group employs "omics" approaches alongside functional assays of nociceptor activity in both mouse and human tissue to decode disease specific mechanisms of nociceptor signalling and evaluate the therapeutic utility of novel analgesic treatments.
Dr Bulmer is a member of the International Association for the Study of Pain, a recipient of an MRC Skills Gap Award (2009), and member of the Crohn's and Colitis Foundation Consortium for the study of pain in IBD alongside Prof Qasim Aziz, London (UK), Prof Harry Sokol, Paris (France) and Prof Nathalie Vergnolle, Toulouse (France).